Guided Cycle Tour of West Cork
Join our 7-day guided tour of West Cork along Ireland's Wild Atlantic Way, to take in breathtaking views, tour historical sights, and immerse yourself in Irish culture.
On our  traditional and electric bikes we'll follow this beautiful coastline so closely that you will be able to taste the salt air as you cycle. You'll get to stop at local hostelries to sample West Cork's world-famous foods, and explore a truly unspoilt and dramatic landscape. This is a cycling holiday dreams are made of …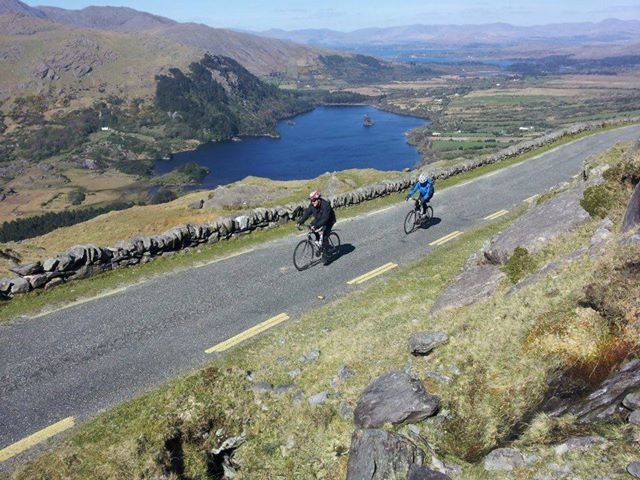 Day One
The tour starts in Kinsale, in the wonderful surroundings of Acton's Hotel, overlooking Kinsale harbour. The Cycle West Cork Team will deliver your bicycles, give a brief safety talk and answer any questions you may have.
Day Two
We'll visit Fort Kinsale and follow the coast to the Old Head of Kinsale. We will travel by the sandy Garretstown beach, so why not bring your swimming gear and enjoy a swim? In the coastal village of Timoleague we'll stop to view the historic abbey before continuing to Clonakilty for lunch. Later in the day, we'll cycle through one of Ireland's most beautiful villages, Rathbarry and then over to Castlefreke. We will finish the day's journey with a short spin along the beach at Owenahincha before arriving in Rosscarbery. The Celtic Ross Hotel – a beautiful hotel with full leisure facilities and views over Rosscarbery Bay and Lagoon – will be our base for the night.
Day Three
We'll travel along the coast to the idyllic village of Glandore, stopping to visit the ancient stone circle at Drombeg, and the renowned fishing community at Union Hall. Next, we visit beautiful Castletownshend and take tea in the castle. We will continue to follow the coast to Tragumna where a beach awaits if anyone would like a swim. Later, we'll pass through Skibbereen and stop at Lough Hyne nature reserve to view the only saltwater lake in Europe. A short journey will bring us to Baltimore and Casey's Hotel, our base for the night. This is a beautiful, family-run hotel overlooking the harbour.
Day Four
We will take the ferry to Cape Clear island, home to an Irish-speaking community, and one of the highlights of any visit to West Cork. A short ferry trip will bring us to Schull where we will stop for lunch. We'll then travel along the coast to one of the finest beaches in Ireland, Barleycove. From there, it's on to the Mizen Head which is the most south-westerly point in Ireland. You'll enjoy wonderful views and the impressive visitor centre here. We'll then follow the coast through Durrus village and arrive at the Westlodge Hotel in the historic market town of Bantry. We'll visit Bantry House overlooking Bantry Bay during your stay.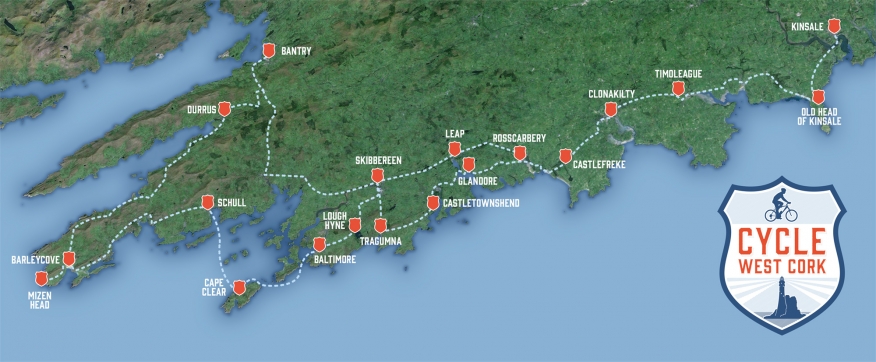 Day Five
Next, we head towards Skibbereen and visit Liss Ard House Estate. Liss Ard House has stunning award-winning gardens and you can swim in the freshwater lake here. After lunch in Skibbereen, we'll have a guided tour around this historic town. We will visit Skibbereen Heritage Centre as well as the famine graveyard. We will finish the day at The West Cork Hotel, a family-run business noted for its hospitality.
Day Six
We'll cycle through Leap and back to Rosscarbery, before we again follow the coast road to Galley Head and the stunning lighthouse. We will continue to Ardfield on the way to Inchydoney Island to view the breathtaking beaches and the famous Inchydoney Spa Hotel. We cycle on to the market town of Clonakilty and our base in the Quality Hotel which has full leisure facilities. Enjoy the evening and all that Clonakilty has to offer.
Day Seven
The final day's cycle is short, leaving Clonakilty and travelling towards Innishannon. We will follow the river Bandon back to where we started, Kinsale. The guided cycle will finish early on the final day but you can retain the bikes until the following morning, allowing you the opportunity to explore this charming town. Your final night's stay will be in Acton's Hotel.
Price
€850 per person sharing.
Cost of traditional bike hire included – supplement of €10 per day if you'd prefer to use an electric bike.
Single person supplement of €20 per day.
The package includes
* Accommodation, dinner, bed and breakfast basis
* Snacks and water each day
* Admission to heritage sites / visitor centres
Named accommodation is subject to availability. If named accommodation is not available, accommodation of a similar standard will be provided.
The average distance covered each day is 40km.
Book Now
To book now, call Don on +353 87 392 1894 or email don@cyclewestcork.com
Offer ends: 31st May 2014.
Transport:
Transfers to Kinsale can be arranged for an additional cost.
UK airports with flights to Cork Airport include:
Birmingham, East Midlands, Edinburgh, Glasgow, Liverpool, London Gatwick, London Heathrow and London Stansted.
European airports with flights to Cork include:
Amsterdam, Barcelona, Brussels, Geneva, Girona, Lisbon, Milan, Munich, Nice, Paris and Warsaw.