This is a 5 night, 6 day cycle starting at Mizen Head in West Cork, departing on Monday 18th September, 2017.
Day 1. Cycle from Mizen Head to Killarney.
Day 2. Cycle from Killarney to Ennis.
Day 3. Cycle from Ennis to Galway.
Day 4. Cycle from Galway to Westport.
Day 5. Cycle from Westport to Donegal Town.
Day 6. Cycle from Donegal Town to Malin Head.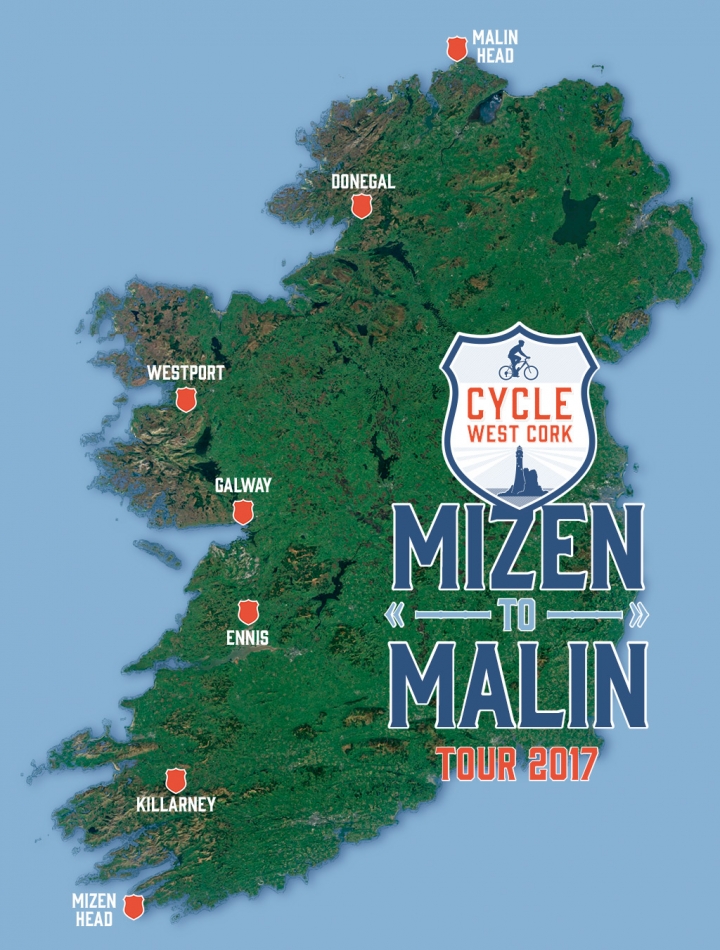 What's Included
Accommodation in clean and comfortable hotels. All rooms will have twin beds and you will be allocated a room partner. You can select a single supplement if you prefer not to share a room. The single supplement will be €25 per person per night. Accommodation is on a bed and breakfast basis.
A packed lunch will be provided each day.
A full briefing given every day at breakfast by tour leader.
Water and fruit at all pit stops.
Support vehicles with tour crew including a first aider, a bike mechanic and a team leader, all on hand to give you all the practical help and moral support you need
Transportation of all your cycling equipment and luggage to each different hotel stop. Storage of all your cycling equipment at each hotel.
A waterproof map so you can navigate your way. This will be a well-designed route planned to lead you on the most picturesque and interesting journey.
Support Vehicles
There will be 2 support vehicles on every one of our tours along with 2 members of the Cycle West Cork team who will be on hand whenever you may need them – including a bike mechanic and tour leader. (The exact number of support crew and vehicles depends on the number cyclists on a tour).
SUPPORT VEHICLE NUMBER 1 will transport all bags from the start in the morning to the hotel in the evening. It is very important that you keep baggage to a minimum as there is only limited capacity on the support vehicles. You won't be able to get to your bag during the day so bring everything else you need with you on your bike/in your rucksack.
SUPPORT VEHICLE NUMBER 2 – FIRST AID AND BACK-UP
This support vehicle will follow you and your fellow cyclists, keeping an eye on your progress and checking everyone in at lunchtime and in the evening. This vehicle will be manned by a bike mechanic and will carry:
First aid kit
Basic bike spares – this will not be comprehensive but will carry some essentials
Bike mechanic set
Bike rack
Water and fruit
Emergency snacks such as energy drinks, muesli bars, bananas, chocolate and jelly beans.
It is no disgrace if you can't make it all the way, the support vehicle will be able to meet you and take you and your bike to the hotel if you want to get to the hotel for any reason, however, riders should try to be self-sufficient for simple tasks such as mending punctures.
Personal Insurance
You should ensure that your personal insurance covers you to take part in a cycle like this and covers your personal belongings and your bike.
Cost of Mizen to Malin Cycle Tour Package
The cost of this cycle per person sharing is €895.
This will include all transfers, accommodation, two support vehicles, and lunch each day.
Date of Cycle
18th September 2017.
The cycle will begin at 10am.
Transfers
Transfers from Cork City to the start at Mizen Head in West Cork and at the finish from Malin Head to Belfast, Dublin or Cork can easily be arranged.
Our Guarantee to You
Cycle West Cork will provide all the support and assistance that you need so that you can forget any worries and just enjoy the cycle. From the second you arrive at the starting point through to the end of the tour, we organise every step. Whether it is transporting your overnight bags to your next hotel or providing technical and medical back up, or providing spare bike parts, pumps or the expertise of a mechanic. we will be on hand to help.
If you have had enough cycling any day and wish to be taken back to the hotel you can call the support crew and be picked up. No questions asked and no-one needs to know.
The only thing we do ask you to organise yourself is your own insurance to cover your cycling.
The Cycle West Cork philosophy is based around our belief that teams and individuals are enhanced by achieving a great accomplishment, and our experienced team are experts in making each cycle enjoyable and fun.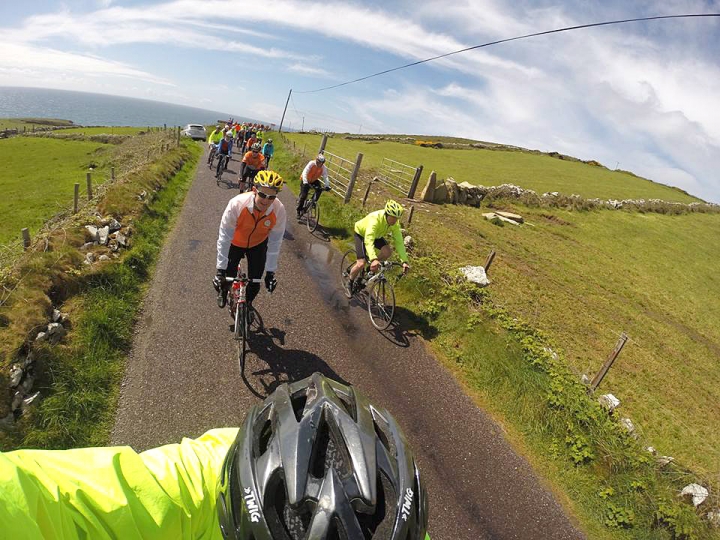 NOTE:
The minimum number of cyclists required to guarantee departure of this tour is 10
Please read the Terms & Conditions.